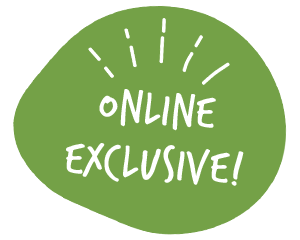 Small Batch
ORGANIC CHOCOLATE COVERED GOLDEN BERRIES
200g
Box containing 3 bags
Our online exclusive small-batch Chocolate Covered Golden Berries are a tropical dream, bursting with flavor and free of any artificial ingredients or preservatives. We took Organic Dried Golden Berries and covered them in Single-Sourced Regeneratively Grown Cacao, making this one of a kind treat that allows nature's perfect flavors to thrive!
* Because of Prop 65, we are unable to ship this product to California.
* No discount codes will be accepted for this product. Please see Shipping & More below for more information.
Only 3 Real Ingredients!
Organic Cacao Mass
Organic Coconut Sugar
Organic Golden Berries
Certified USDA Organic
Paleo
Gluten Free
100% Grain Free
Non-GMO
Vegan
Certified USDA Organic
Paleo
Gluten Free
100% Grain Free
Non-GMO
Vegan
A Taste of the Tropics
Our Chocolate Covered Golden Berries are 100% sourced and produced in Colombia, South America!

Artisan Tropic's Chocolate Covered Golden Berries are Certified USDA Organic.
FREE SHIPPING ON ORDERS ON $100!
* No discount codes will be accepted for this product. Shopify does not allow for limits on discount codes with specific products so if you use a discount code your order will be cancelled and your money reimbursed *
Artisan Tropic processes and ships orders within 3 business days from date of purchase.
Any delivery date stated herein is approximate only. Delivery is provided by third party carriers and Artisan Tropic shall have no liability for damage to or loss of the goods by such third party carrier.
Artisan Tropic shall only ship items with an expiration date of at least 45 days.
ARTISAN TROPIC PRODUCTS PURCHASED ON THIS SITE ARE NOT FOR RESALE. FAILURE TO COMPLY COULD COULD RESULT IN LEGAL LIABILITY.
California Residents: Click here for Prop 65 disclosure
What are golden berries?
Golden Berries are native to South America's majestic Andes Mountains and are known for their delicious sweet and sour taste! In Colombia, these orange-colored, tangy berries are called "Uchuvas" and they are traditionally grown at altitudes of 5,000 to 10,000 feet above sea level.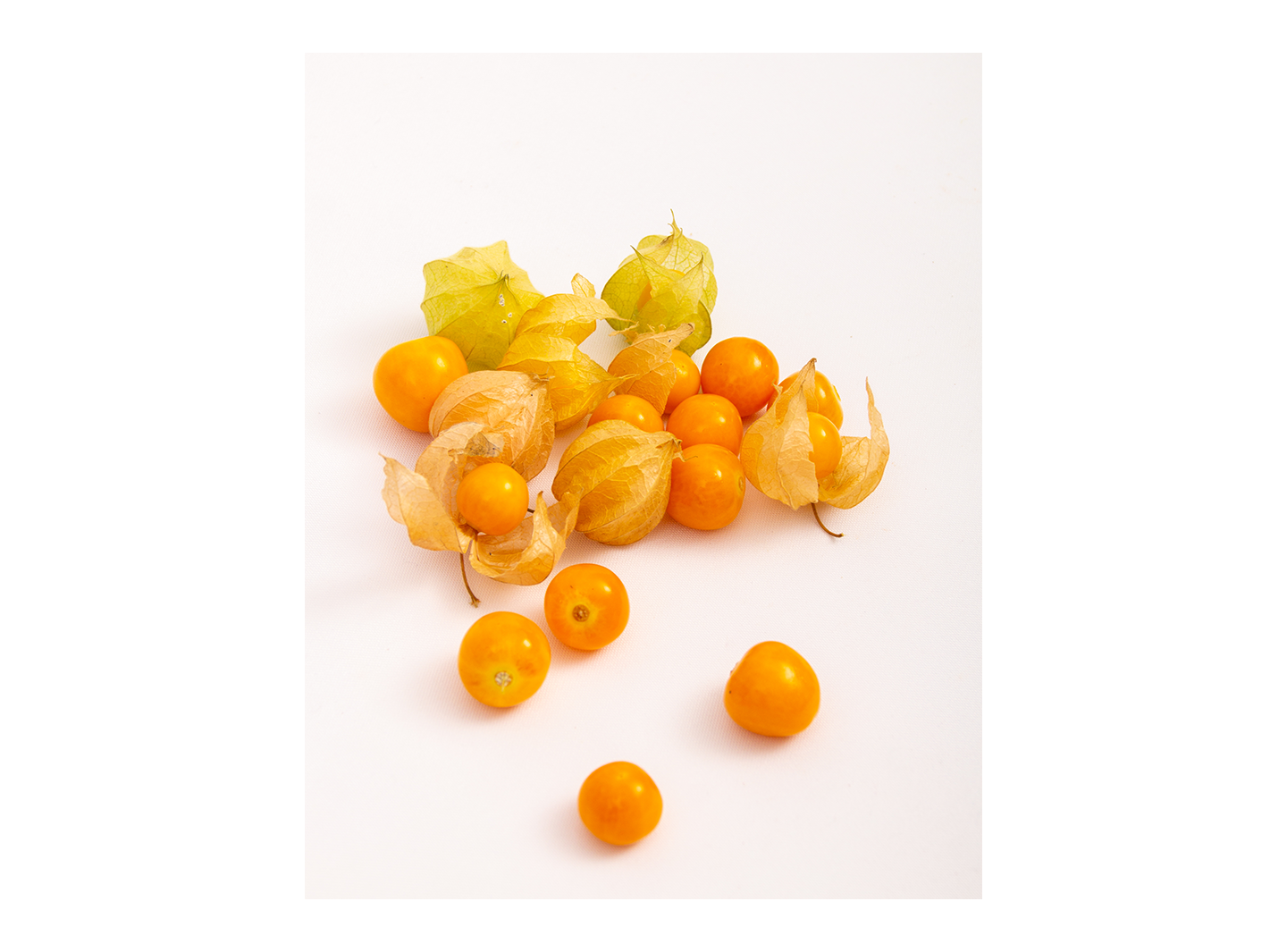 These Uchuvas you are about to enjoy were grown organically in Colombia, are free from any chemicals and packed with nutrients including antioxidants, vitamins A, C, and K, thiamine, and iron. It's no wonder they're considered an Andean Superfood!
Where is the cacao sourced?
So glad you asked! Meet Don Oscar…not only is he our Co-Founder's father-in-law, but he is a pioneer for Regenerative Agriculture in Colombia!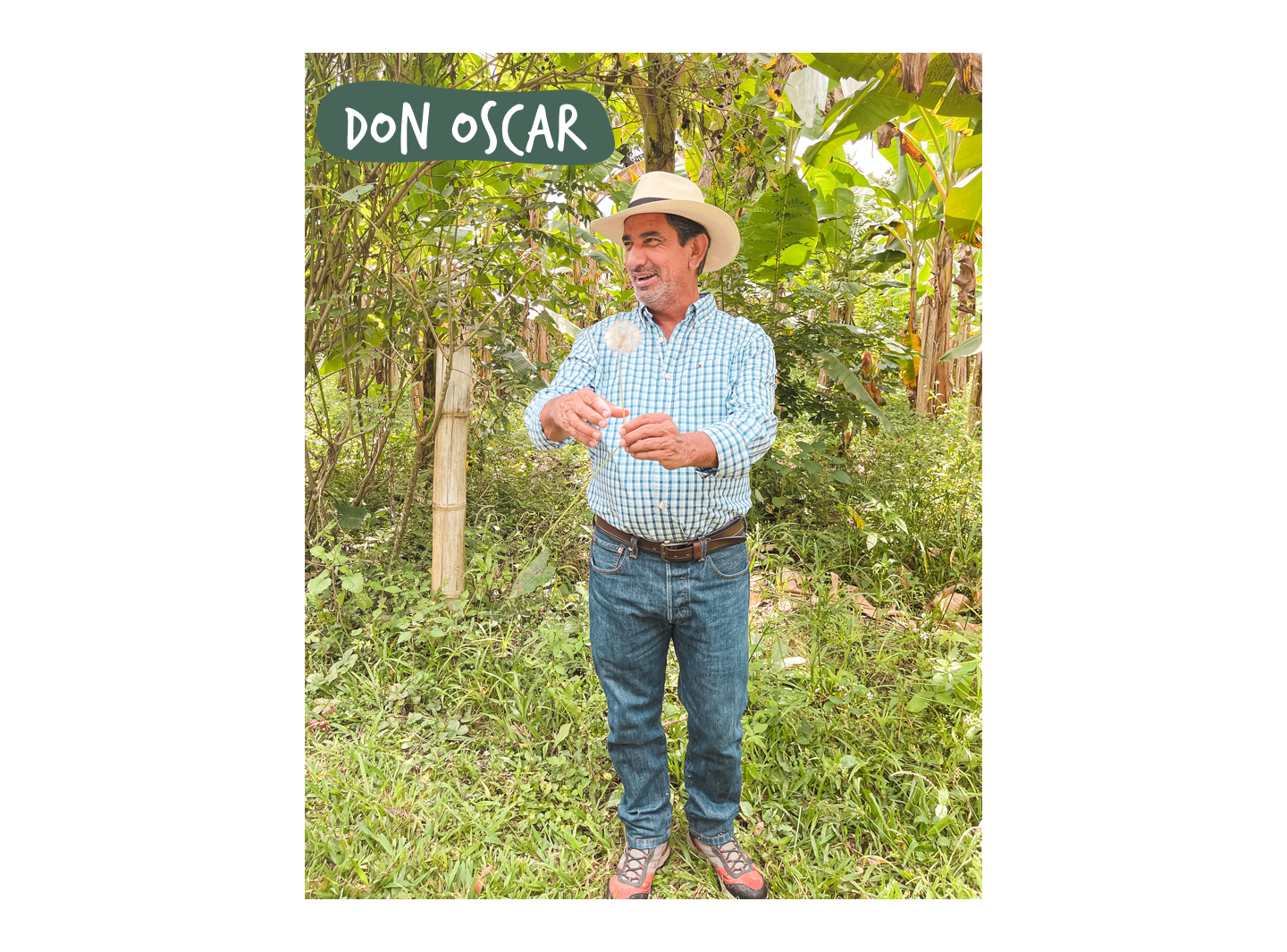 As a second generation farmer, he began to question modern farming practices and consider how differently our ancestors engaged with the land. It definitely wasn't mono-cropping and excessive spraying of chemicals. It was balanced, reciprocal and centered on a deep respect for all life to thrive. He began to transform his farm, Jerusalen, into an agro-forest full of cacao, plantain, ginger, coffee, and other tropical fruits. We are so proud to source all of the cacao for these sweet treats from Jersusalen and partner with Don Oscar in building a regenerative future!
Why is Artisan Tropic making chocolate?
Our journey and value for Regenerative Agriculture has led to a diversification of crops at our farms and the farms we partner with. When you introduce greater biodiversity into a system, you have additional production, and we are curiously exploring how we can add value to our farmers for this great product, as well as to our customers who are looking for high quality food that is grown with Regenerative practices.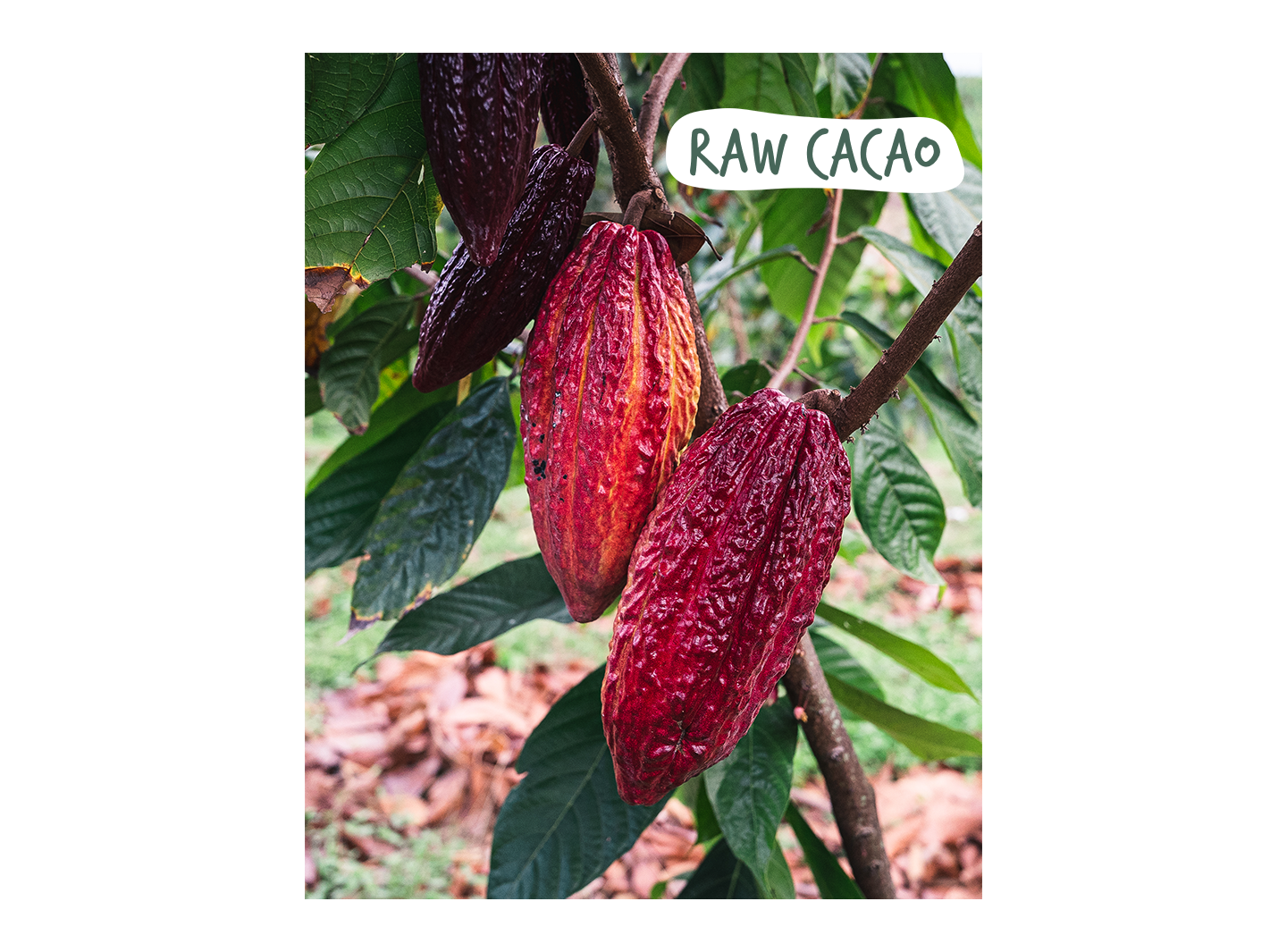 Cacao is one of these additional crops that have been introduced into what used to be mono-cropped plantain systems and this is where the inspiration and idea for these yummy treats came from.
How much product is in each bag?
Our Chocolate Covered Golden Berries come in very generous, sharing size bags with 200 grams of chocolate. Each box contains 3 bags and there are 8 servings per bag, so altogether, you're getting 600 grams / 24 servings of nutritious indulgence per box! Each bag is resealable, which means you'll be able to pace yourself and enjoy responsibly 😎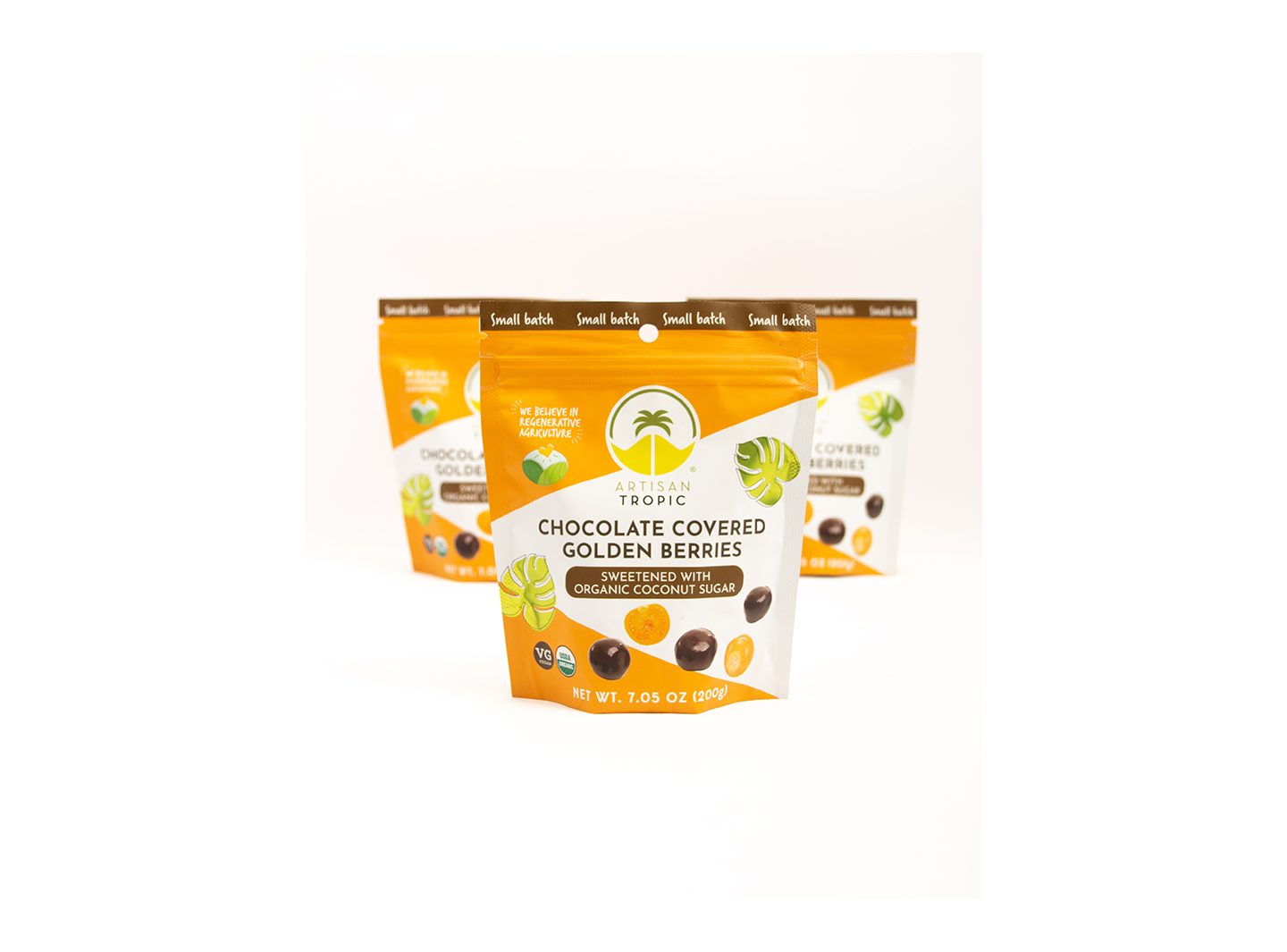 What is the shelf life of this product?
All bags from this small-batch production have an expiration date of 05/04/2025
Won't these melt when shipped?
Chill out 🥶 Each box is shipped with an ice pack, to guarantee that it arrives at your doorstep in perfect condition.
View the Full FAQs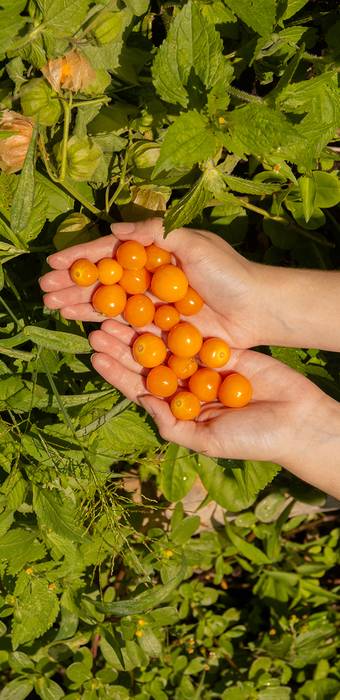 California Proposition 65 (Prop 65)
Prop 65 is a unique California law requiring businesses to warn consumers against products that may contain quantifiable amounts of over nine-hundred possible chemicals, including lead. Prop 65 limits for lead are in some cases nearly 1,000 times lower than the EPA's "No Significant Risk Levels". Due to the presence of lead in soil, plants of all types may naturally contain lead and other metals in trace amounts through no act of adulteration. While originally well intended, Prop 65 was vaguely written and ill-conceived, now allowing a host of opportunistic lawyers to take advantage of unsuspecting retailers and manufacturers by filing a flurry of notices alleging lead content in food products and seeking monetary gain in the form of a very costly settlement (over $26 million in settlements in 2015 alone). Most companies can prove the level is meaninglessly low — but that is extremely expensive to do in court. So, most companies end up settling even when they are not liable, to avoid the expense of litigation.
Artisan Tropic recently learned that Prop 65 has added plantains and cassava to their list of products that may contain quantifiable amounts of over nine-hundred possible chemicals, including lead. While we believe that our products conform to Proposition 65, we are unable to bear the financial burden to fight this legal battle in court. Due to the seemingly endless risk and liability, Retailers, Manufacturers, Restaurants and others are posting warnings to excess which are now mostly ignored by the very people they are intended to protect.
We list all ingredients included in each of our Artisan Tropic products, both on our website and on each bag. In addition to being very delicious, we believe there are many health benefits to each of our ingredients.
Customer Reviews